About NAFCO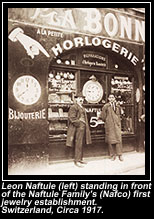 NAFCO is a family run operation and has been for four generations. The company was originally established in Geneva, Switzerland in the early 1900's and primarily devoted their attentions to the distribution and cutting of colored natural gemstones.
In 1965 NAFCO began operations on 5th Avenue in New York City. It continued supplying the industry with fine colored natural gems and specializing in fine rainbow sapphire and ruby suites for which they had gained much respect over the years. In 1975 the company moved from New York City to Scottsdale, Arizona where it is currently located.
Today, sisters Myriam and Stephanie continue the Naftule family tradition of supplying the gem and jewelry industry with the finest of gemstones and providing impeccable service that has earned NAFCO it's golden reputation. In addition the sisters have added other fine gemstone collections including fine diamond cut and princess cut ruby and sapphire melee along with many other gemstones such as tourmaline, spinels, Tsavorite garnets, amethyst, etc.
We look forward to being your fine color gemstone supplier and working with you for years to come!